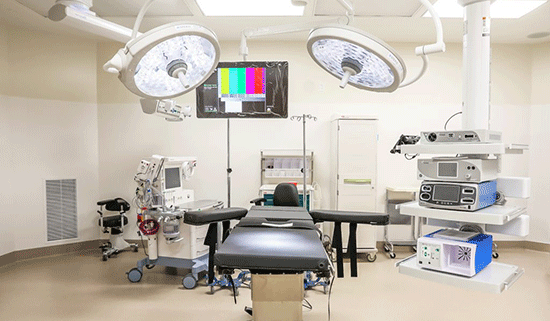 Surgeons Migrate to ASCs as Surgeries Move to Ambulatory Settings
It's no secret that the ongoing coronavirus pandemic has challenged American health systems in ways that they are not used to being challenged. Many have had to adjust rapidly to best meet the needs of their patient population, while doing what they can to stay afloat financially. Among the most attractive solutions to this problem is the migration of procedures to ambulatory surgical centers (ASCs)
This also makes sense from a patient perspective. Free-standing ASCs provide the ability for patients to access surgical services while avoiding potential exposure to hospitalized COVID-19 patients. But how can surgeons benefit from this solution, and what do they need to know if they are considering it? The challenges of expanding or renovating this type of facility – or, in fact, building a new facility from the ground up – and then managing either can be daunting.
According to Joseph P. Nessler, MD, there are a number of important considerations to keep in mind as the migration to ASCs gains prevalence. Dr. Nessler is a partner at Saint Cloud Orthopedics, Sartell, Minn., owner/partner in the Saint Cloud Surgical Center, Saint Cloud, Minn. and an adult hip and knee reconstruction surgeon with an emphasis on outpatient and robotic joint replacement and revision arthroplasty. He points out these considerations, including the viewpoint that the ASC setting can make the surgeon's life easier.
"ASCs can provide profound quality-of-life benefits for surgeons, especially those who have only ever worked within the restrictions of a larger hospital setting," says Dr. Nessler. So what are these benefits?
"One such benefit is increased responsiveness. Larger hospitals have to meet a variety of different needs for a variety of different employees and stakeholders, but because ASCs have a much smaller footprint, they can be laser-focused on making sure that surgeons are able to do their work efficiently," says Dr. Nessler. "ASCs can be quick to change workflows and patient pathways to make outpatient surgery more efficient."
Moreover, ASCs can respond quickly to changing surgical demand as was the case during the early days of the pandemic last year.
According to Dr. Nessler, "Case in point, our local physician-owned ASC responded quickly with expanded operating hours including early morning, evening and even weekend hours as needed to address the backlog of elective surgical caseloads once our state restrictions on elective surgery were lifted."
ASCs also can be conducive to more intimate patient-doctor interactions. Particularly in larger hospitals, it can be difficult to balance the constant demands of moving between operating rooms and often distantly placed family waiting and consultation areas. By virtue of being a much smaller, more focused environment, ASCs make it significantly easier to spend more time with patients and their families both pre- and postoperatively, vastly improving the patient and physician experience.
Expanding with a partner
ASCs can also offer advanced technology. According to Dr. Nessler, "Given the focused and responsive nature of ASCs, many of them are equipped with advanced technology that's as good as hospitals. For example, we currently are partnering with Stryker's ASC business to help expand and update our ASC to meet the growing orthopedic case volume. After meeting with them to communicate our needs, they developed plans to assure everything was covered, from totally outfitted operating rooms, including Mako SmartRobotics™, to central sterile processing. No details were left uncovered. They proved to be a great partner providing one-stop service."
Of course, there are challenges with migrating new and more complex surgical procedures to an ASC and Dr. Nessler advises, "You'll have to make a long checklist of things that need to be done – including making sure you have adequate in-servicing both internally and with vendors, making sure your staff is able to adjust to new workflows and determining the best way to communicate the benefits of ASCs to patients."
Furthermore, in tackling the other hurdles associated with migrating procedures, Dr. Nessler says, "It can be helpful to use a third party that's familiar with the business model, such as Stryker's ASC business. As we migrated more complex cases, Stryker played a huge role in every step of the process. Stryker's familiarity with our surgeons' workflows helped the ASC surgical team learn our surgeons' preferences, so that each doctor had personalized equipment according to their wants and needs for each kind of procedure. Overall, they made what can be a very complicated process extremely simple, allowing myself and the surgeons on my team to focus on patient care."
Stryker is committed to providing the latest operating room equipment and accessories with flexible options for technology refresh to keep that equipment state of the art for years to come.
The migration to ASCs is not going away any time soon, even after the pandemic is in the rearview. Just recently, the CMS proposed a 2.6% boost to ASC payment rates for the 2021 coverage year, and recommended inclusion of THA on the ASC-approved list of procedures which will speed the migration of spine and joint procedures out of the hospital setting.
"The potential benefits of ASCs are clear, and though migration provides certain challenges, there are options available to make the process much simpler. Vendors such as Stryker can help ensure that whenever the time is right to begin moving procedures to the ASC, it can happen as seamlessly as possible," says Dr. Nessler.
Note: Dr. Nessler is a paid consultant of Stryker Orthopaedics. The opinions expressed by Dr. Nessler are those of Dr. Nessler and not necessarily those of Stryker.
https://www.endosound.com/wp-content/uploads/2021/05/baptist-health-or.gif
513
550
KG-Endosound
http://www.endosound.com/wp-content/uploads/2023/08/Endosound-New-web-logo-no-tag2023.png
KG-Endosound
2021-05-16 12:44:17
2021-08-31 17:12:15
Surgeons Migrate to ASCs as Surgeries Move to Ambulatory Settings